GRAB LIFE-TIME ACCESS TO THE ENTIRE SUMMIT!
The Mushroom Summit is a 100% free Online Conference. However, if you want to have lifetime access to all the presentations, bonus content, and additional trainings, scroll down, check out what's included, and start learning today!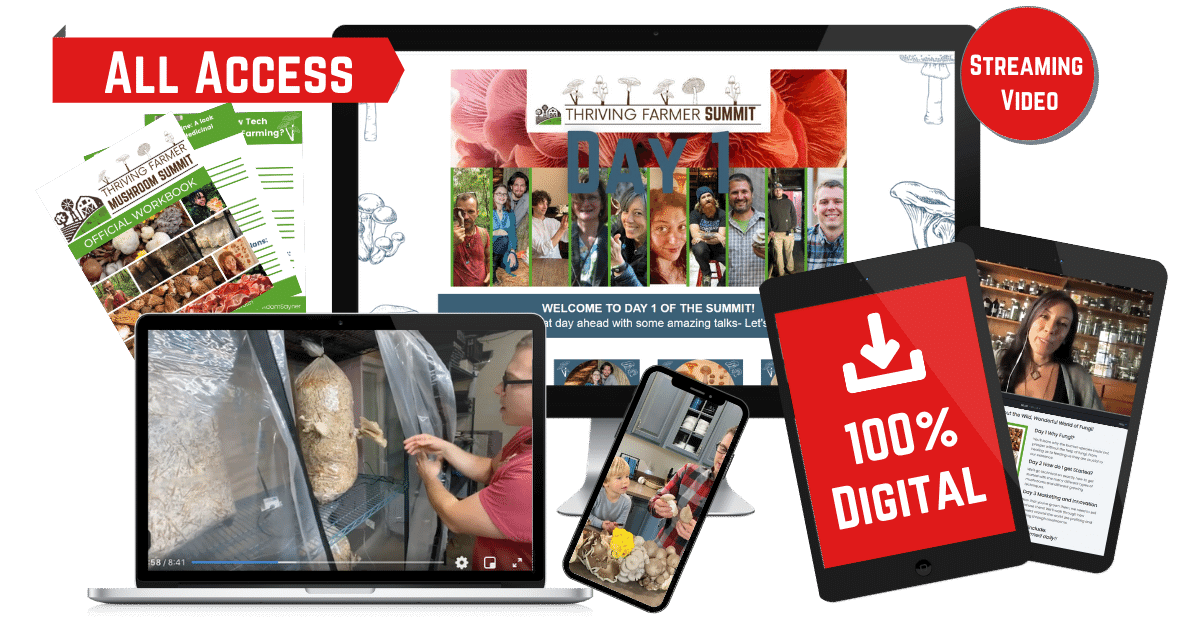 Lifetime access to all the interviews PLUS bonus content and additional trainings
Over $1188 in value, for just $197
The All-Access Pass comes with these valuable additional features and bonuses
Exclusive Summit Workbook
Step-by-step worksheets to plan out your mushroom growing, whether you are looking to grow for profit, or just want to grow for your own use - plus, take notes for each speaker as you go!
The Exhaustive Mushroom Industry Resource Guide
Want to get started with mushrooms but don't know how to get setup, who to trust? It can be a wild west of suppliers out there, and finding the right spawn, supplies, cultures and more can be a challenging task! We've scoured the internet and put together a exhaustive list of 60+ suppliers on everything from classes, to spawn, to ready to fruit kits! We continue to add new suppliers as they become available!
Keyword Search Technology
Use the revolutionary search feature to keyword search for the exact part you are interested in. No longer have to fast forward or skip around to find the gold nuggets!
Audio Transcripts
Transcripts of the top 6 talks available inside the Summit!
Listen to the talks, read along, or use it for your extensive note-taking!
Bonus Trainings: How to Clone a mushroom and do a spore print
Find a cool wild specimen? You'll want to do a spore print to make sure that its edible. Or maybe its just SUPER vigorous and exhibits some interesting characteristics! You can easily clone the mushroom for future research and to preserve the strain. In these bonus videos Michael walks you through the entire process with a very unique 7 LB Pluerotus (Oyster) mushroom!
"First time I've ever binge watched anything. Thanks for the summit! Great Work! "

Nater Downey

"Absolutely cannot say enough about this group and Michael and his staff. A treasure trove of ideas, thinkers, community sharing, and advancement of the small farmer. Big thanks to the universe for connecting me with this group of amazing individuals"

Matt Unger

"My top takeaway today was how low tech it can be to begin farming mushrooms. I am so thrilled to learn that mushrooms can be of help to the health of forests and also to people! What an amazing way to contribute to medicine for the people. Thanks so much for putting this excellent series together! "

Cherie Grousset

"Great summit, very informative and a lot of great farmers packed into one perfect package. Thanks for all the time and effort that went into putting on the summit! "

Jeremy Adams
Growing mushrooms doesn't have to be so hard... learn from the experts today!
Day 3
Build a Mushroom Business! 
Grab the All-Access Pass and start learning today!
Lifetime access to every single presentation, so you can enjoy the expert motivation and knowledge when you need it most

New ideas uncovered when you listen again and again. Ideas you missed the first time around! As you gain more experience, you will discover even more golden nuggets each time you listen.

A collection of powerful bonuses and additional features. Resources and tools, all proven to help simplify your farming efforts and make each year the best ever.
Own your copy & Get Started now...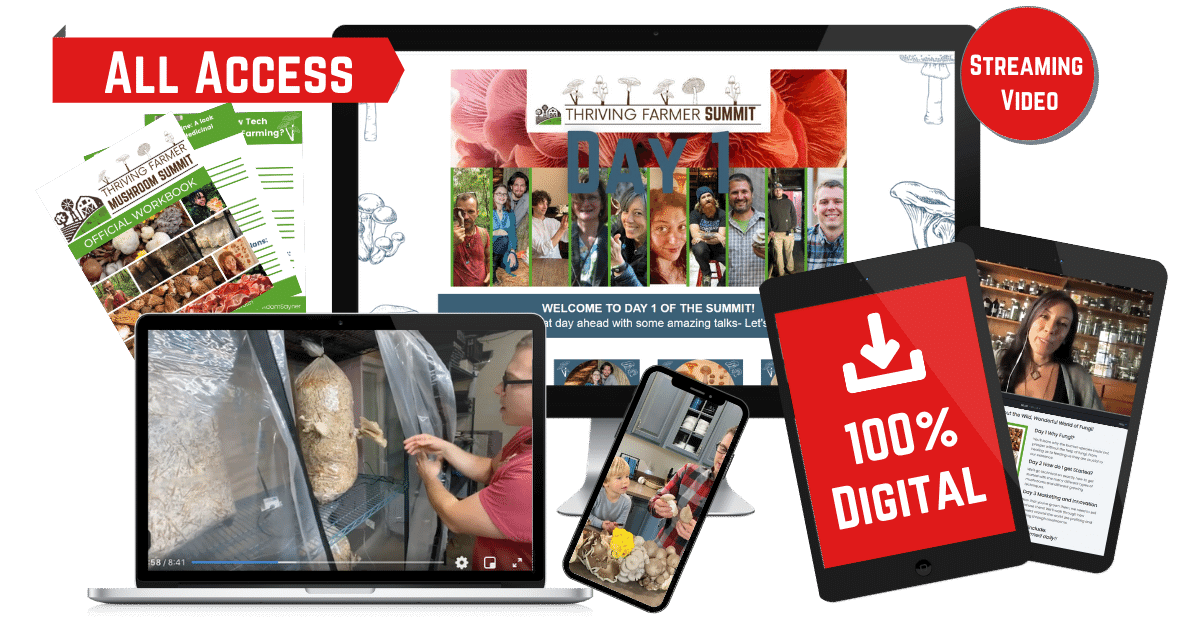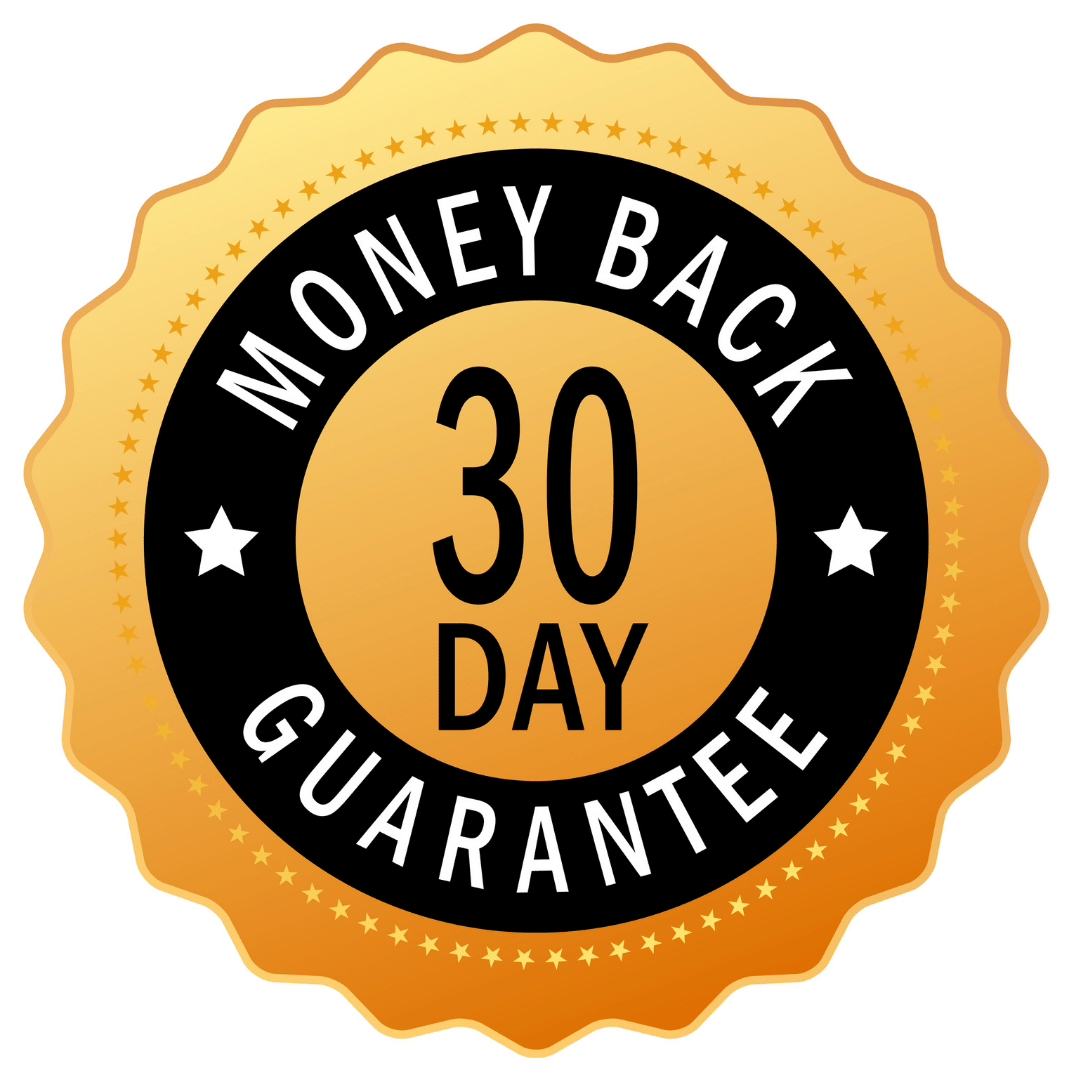 The Thriving Farmer All Access Pass is 100% risk-free! Hundreds of people like you have invested in our products over the years. I'm confident that you'll be thrilled. On the small chance this doesn't work for you, you receive a FULL refund within 30-days of your purchase. No hassles. Simply email:  hello@growingfarmers.com
If for any reason you request a refund, the entire package, with all the downloads, is still yours to keep. That's why I call my guarantee "risk-free."
Take full advantage for 30 days and see for yourself.